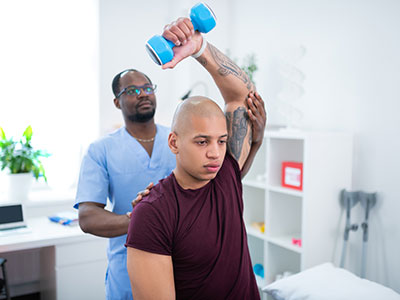 Physical Therapist Career Resources
PT Jobs: Great Resources
At Club Staffing, our valuable physical therapists come first. For this reason, we continually update our site with the latest resources for their use. The following reference guide will help both existing physical therapists and job seekers get the information they need. To find out what types of physical therapist jobs are available, simply search for travel physical therapy jobs.
1. APTA
The American Physical Therapy Association (APTA) is an individual membership professional organization representing more than 90,000 member physical therapists (PTs), physical therapist assistants (PTAs), and students of physical therapy.
Your ultimate online resource for everything related to the practice and profession of Physical Therapy.
3. PT Central
PT Central provides study materials and assorted resources for study materials for physical therapy students.
Honorable Mention
---
Physical Therapy Information
About.com provides an extensive overview on all facets of physical therapy and just about anything else you can think of.
The official consumer information website of the American Physical Therapy Association.
Honorable Mention
NEWS-Line — Publishes print and online news magazines, as well as weekly email newsletters, providing news and information to Health Care Professionals in an easy-to-read, non-clinical format.
---
Physical Therapy Interactive Tools
1. THE FEDERATION OF STATE BOARDS OF PHYSICAL THERAPY
Develops and administers the National Physical Therapy Examination (NPTE) for both PTs and PTAs.
2. PHYSIOTOOLS
Produces exercise software for rehabilitation and training professionals who need to create personal exercise and information handouts for their clients, by print, email and high quality videos.
3. WEBPT
A web-based physical therapy software system that ensures compliance, efficiency, and quality of care in a physical therapist practice.
---
Physical Therapy Magazines
1. PT JOURNAL
The official publication of the American Physical Therapy Association (APTA) and is an international, scholarly, peer-reviewed journal.
2. TODAY IN PT
A trusted source of innovative learning opportunities, compelling news and other resources that actively support the physical therapists and physical therapist assistants community.
Honorable Mention
---
PT Job Boards
---
Physical Therapy Blogs/Communities
A free professional social network for people working in or servicing the health care and medical field, including blogs, forums, photos and videos.
From social media to thought leadership, these blogs posts will cover the realm of marketing as it pertains to PTs, OTs, and SLPs.
Honorable Mention
---
Physical Therapy Products
2. RESTORATIVE CARE OF AMERICA, INC
More than thirty-five years of innovation, industry leadership, and superior quality have made Restorative Care of America, Incorporated one of the world's leading manufacturers of restorative care products.
Honorable Mention
---
Physical Therapy Organizations/Sections
NOTE: Due to the common mission of all APTA section websites and national organizations who support the profession of physical therapy, we refrained from ranking these websites.