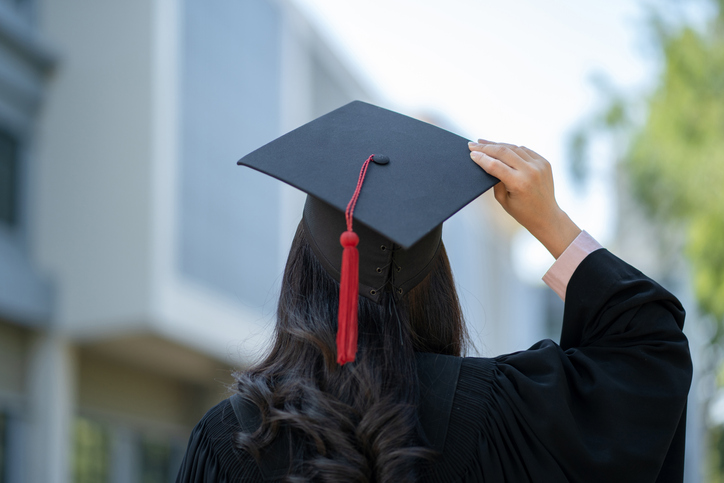 New Grad Therapist, Now What?
You've completed school and are ready to start your career as a new graduate therapist. But are you truly prepared for what's ahead?
"The responsibility can be a weighty feeling," said Fred Gilbert, PT, DPT, the American Physical Therapy Association (APTA) former study assembly president, a member of APTA's board of directors early career team and a member of APTA Alabama chapter's board of directors.
Gilbert explained that the pace at new grad PT jobs or other first-time therapy positions is faster than in school, and a clinical instructor is not there for guidance. As a licensed therapist, "the patient assumes you know everything," he said.
Plus, new grad therapists suddenly become responsible for delegating to aides and assistants.
"I struggled with trusting the aides with my patients, even though we have great employees," Gilbert said. "I'm supervising, so it's on my license. It took me several months to get comfortable with that."
Tips for Finding The Right New Grad Therapy Job
New grad therapists usually know what setting they want to work in and often talk with recruiters at job fairs.

Hospitals, clinics and other employers may offer a residency program for therapists.

At a minimum,

Gilbert recommends new grads seek out an employer that will provide orientation, mentoring, and opportunities for learning.
"Take time to identify the qualities you are looking for in a job and make it fit," Gilbert advised.
The U.S. Bureau of Labor Statistics Projections
Physical therapy jobs will increase 34% by 2024

Occupational therapy jobs by 27%

Speech-language pathologist jobs by 21% -

all much faster than the average for all occupations.
"We are seeing a continuous increase in demand," said Meg Halsch, senior recruiting manager for Club Staffing, an AMN Healthcare company that places therapy, lab, and imaging professionals in travel jobs around the country.
Most professional association websites offer sections for new professionals with career tips on a variety of topics, including job search basics, such as how to write a resume and cover letter, student-loan refinancing, and career development. Some also have job boards.
First-job Challenges for New Therapists
"New grad therapists are often well prepared to work with and interact with patients. One hurdle we do see at times is the ability to quickly adapt to different technology or work processes," Halsch said. "For example, if the facility where they did their clinical rotation used a different electronic record system than the one used by their first employer, it may take longer to become comfortable in their new setting."
Gilbert said he had to stay late many nights to document his care in an electronic record system he was not used to using.
If thinking of moving or traveling to a new grad therapy job, candidates must apply for licensure in the state where they will practice.

Most organizations require a permanent license before allowing the therapist to practice.

Plan ahead and apply for those licenses to streamline the process.

Therapists who work with a recruiter at a healthcare staffing agency can get additional help through the licensing process.
Travel Therapy Jobs Offer Varied Settings and Experiences
Many new graduates may not be aware of travel therapist opportunities. Physical therapists, occupational therapists and speech language pathologists who have completed their clinical fellowship can travel to some assignments with Club Staffing with two references from clinical rotations.
These temporary assignments are traditionally 13 weeks but can range from 4 weeks up to 26 weeks or more. Some school-based assignments can last for the entire academic year. The benefits of travel therapy jobs include the option of free corporate housing or a housing stipend, travel reimbursements, insurance coverage, a 401K program, and more.
Working as a new grad travel therapist provides experience working in diverse settings and with different people, patient loads and management styles.
"Travel jobs help you acquire diverse experience and learn best practices, while showing a flexibility that will appeal to employers when you apply for that dream job," Halsch said.
Rural and smaller facilities are typically more open to new graduates and are willing to provide more coaching than large facilities, Halsch said. Skilled nursing facilities also tend to be open to new grad OTs, PTs or SLPs. Schools and outpatient clinics may take a new grad therapist, as well.
"Home health care has a huge demand," Halsch added, explaining that some home health agencies prefer the new grad to sign on for 26 weeks, rather than the traditional 13 weeks, and will provide a week of training.
The amount of orientation provided to travel therapists varies by facility. Some organizations have a formal orientation, and others might pair a new grad therapist with a seasoned professional. If the assignment is to fill in for a therapist going on maternity leave, the facility might bring the traveler in to work with her for a week.
Halsch encourages each therapist to ask about orientation during the telephone interview.
Although most new grad travel therapists want to see the country and visit different places, some will opt to transition to a permanent position at the conclusion of a travel assignment.
"It's possible they fall in love with an area and the facility needs someone long-term," Halsch said.
Want to know more about the benefits of travel therapy jobs?
• GET answers to frequently asked questions (FAQs);
• CONTACT a Club Staffing recruiter