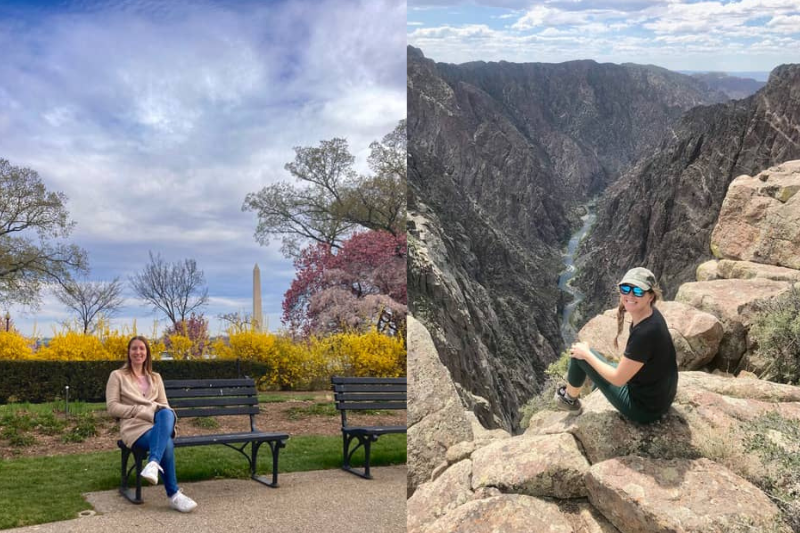 Two New OT Travelers Share Why They Took the Leap
April is Occupational Therapy Month, a time to honor occupational therapists (OTs) and certified occupational therapy assistants (COTAs) while raising awareness about the profession and how it improves patients' lives.
In addition, occupational therapy is a great job for those who want to travel, with excellent variety and hundreds of travel OT assignments all over the country offered through Club Staffing.
In honor of Occupational Therapy Month, we caught up with two new OT travelers who are busy building their careers and making a difference wherever they go.
Meet the OT Travelers
Karla E., MOT, OTR/L, and Sarah C., MOT, OTR/L, ECHM, are occupational therapist travelers who started their careers in full-time, permanent OT positions.
Karla became interested in occupational therapy after sustaining injuries in high school that introduced her to various aspects of rehabilitation. She did physical therapy and liked it, but especially appreciated how OT focused more on the psychosocial aspect of recovery with a holistic approach.
Karla, who is from Indiana, and her husband, Karl, a physical therapist, first discussed travel healthcare as a goal when they were in graduate school at the University of St. Augustine for Health Sciences in Florida. Then, after working full-time for about six years at the same jobs, they began feeling burned out. Karla felt that a different setting might motivate them to take their careers to the next level, so they decided to pursue the travel lifestyle. They have been traveling together ever since, and currently, work as travel therapists with Club Staffing.
"We just thought this was the time to do it," Karla said. "We don't have any kids yet, we wanted to travel and explore, and we love the outdoors and camping. So, now we're living in an RV while working on an assignment in Newport, Oregon."
Sarah, whose home is outside Philadelphia, graduated from occupational therapy school at the University of Pittsburgh and then worked a few full-time OT jobs for the next three years. She wasn't finding her niche, however, so she decided to try some OT travel assignments to explore different settings and locations before committing to another full-time job.
And like Karla, Sarah travels with her husband, Nick, who works remotely as a writer.
"I started traveling with Club staffing in January 2022," Sarah said. "It was cool because I'm from the East Coast, and I got to travel around the West Coast for a few months on assignments. And now, I'm back on the East Coast on an assignment closer to family. I enjoy having a lot more flexibility as a traveler."
Sarah was always interested in healthcare, but the creative aspect of OT caused her to settle on that discipline. She enjoys helping people regain their independence and what's meaningful to them, while being able to add her personal touches to the therapy practice.
Benefits of OT Travel Assignments
Before taking OT travel jobs, Karla focused on stroke rehab, inpatient rehab, and acute care. Now she can add home health and outpatient therapy to her list of skill sets.
"There's so much to learn in OT," she said. "One reason I love this field is there are so many different avenues to work in."
Karla and Karl have traveled their way across the country in a short amount of time. They started with an assignment in South Carolina, then went to Texas and Wyoming, and are currently in Oregon, their first Club Staffing assignment.
Sarah calls her first assignment in Napa, California, a vacation destination. While there, she enjoyed the beautiful scenery of Northern California and met many other travelers who helped her adjust to her new position. From there, she headed to Oregon, where she enjoyed incredible scenery and weekend hikes. She also visited Portland and other parts of the state.
"While traveling, I was learning which facilities I liked best and what to look for in future contracts," Sarah said. "I started trying to focus on rehab settings just based on what I was enjoying."
That focus led Sarah to where she is currently: the University of Maryland. She loves the facility and is learning neuro specialties, a facet of OT she greatly enjoys.
The Importance of a Good Recruiter
These two OT travelers share the same recruiter, Club Staffing's Gillian D., to whom both give credit for their success.
Karla was referred to Gillian by another traveler, and they stayed in touch for about a year before Karla took the Oregon contract.
"Gillian kept in touch, and we knew she was a hard worker," said Karla. "We wanted to work with her and were happy when the Oregon assignment became available."
Gillian has been Sarah's recruiter since her first assignment in California.
"Gillian makes me feel that she puts me first," Sarah said. "I know she is a busy person and helps a lot of other travelers to get placements, but I am always confident that she is working on getting the best deal, location, or position for me. If there's ever a problem, she handles it right away. I feel very taken care of by her and confident in her abilities as my recruiter. So, I have never even considered working for another company, mostly because of her."
Why Consider Travel OT?
Both travelers feel strongly that occupational therapy professionals should give traveling a chance at some time during their careers.
"People get into the same routine, and that's how they get burned out," said Karla. "But occupational therapy has many different settings, which can help prevent burnout. Seeing different places in the U.S. is another reason to travel. We have this unique opportunity to work in different locations, and everyone should take advantage of that, at least for a few months or a year. Finally, it's invaluable to keep learning in different settings. The only way you can grow is to challenge yourself."
Sarah said OT travel assignments can open up possibilities you may not have in a permanent position. But you must overcome the initial anxiety of becoming a traveler.
"Traveling can seem overwhelming at first, especially trying to make all the logistics work," Sarah said. "But that's why you have a recruiter to help you get started. And once you're on board, you'll realize all these other things that weren't available to you when you had a permanent position, like so much more flexibility. I feel as though I'm in control of what I'm doing. Traveling is worth exploring, even if you are just remotely considering it."
The Significance of Occupational Therapy Month
As proud OTs, Karla and Sarah appreciate Occupational Therapy Month's attention to the profession.
A significant aspect that Karla hopes people will consider during April and throughout the year is how OT is integral in helping patients with mental health challenges.
"A big aspect of occupational therapy that makes us different from other professions is our ability to incorporate strategies that can improve mental health," Karla said. "Focusing on the psychosocial aspects of our profession helps get people back to their daily routines and habits more effectively."
For Sarah, this month of recognition is the perfect time for OT professionals to recommit to doing their best, and to reflect on how much they're helping other people.
"We can get wrapped up in many details about traveling, such as contracts and where you're going to live. But you have to take a second to realize how important our roles are in different people's lives because that's the most important thing," Sarah said. "And helping to support the therapy team as much as possible in these different roles is important."
"You can always learn something from the different people you're working with while you're there," she continued, "whether it's from a fellow OT, someone else working at that healthcare facility, or a patient or family member. OT Month is a great time to reflect on the passion that helped us decide to do OT in the first place, and bring that personal touch and creativity to each facility and patient daily."
Karla and Karl look to keep traveling and have Colorado, Arizona, and Florida on their assignment radar. (You can follow the couple on their Instagram pages: @thecampingkehlers and Karla's blog, @karluh_christine.)
Sarah doesn't maintain a list of places and facilities for future assignments. Instead, she enjoys the surprise of seeing what's available when she's looking to renew a contract. For now, she plans to continue traveling, at least for the short term.
Is It Your Turn to Try OT Travel?
Are you ready to start making lifelong memories as Karla and Sarah have?
Choose from hundreds of TRAVEL OT JOBS or just APPLY ONLINE, and Club Staffing's recruitment team will help get you on your way!