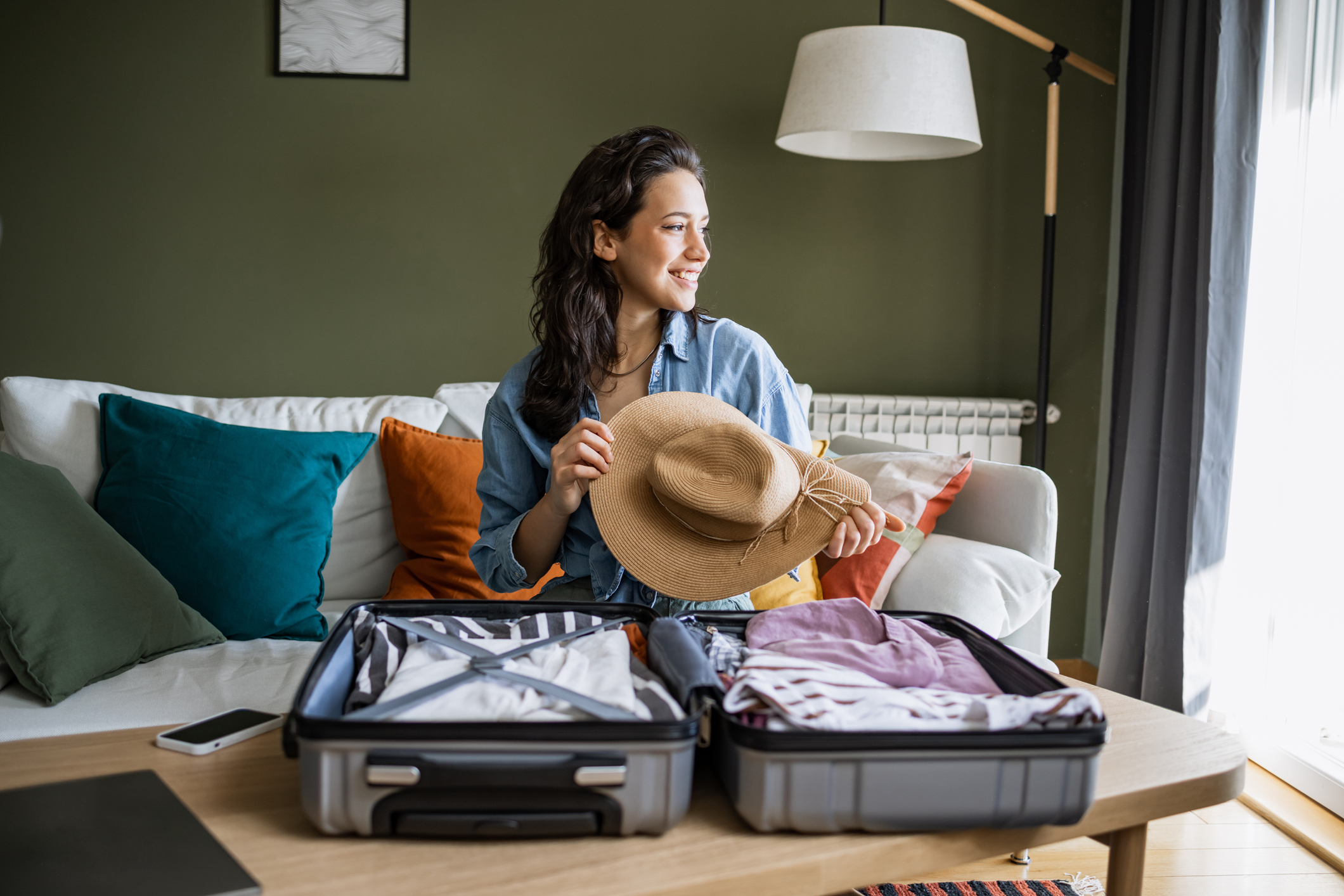 7 Luggage Essentials for Allied Travelers
On the road again? As an allied traveler, you may find yourself relocating multiple times a year to different parts of the country. Whether it's your first time away from home or your 300th, these 7 essentials will help you pack smart and sensibly.
Packing for Traveling: Initial Steps
First off, before you start stuffing your bags, do a little research on your accommodations. Find out if your future lodging provides any household essentials such as toiletries, linens, and kitchenware. (If applicable, check for amenities on sites such as Airbnb or rotatingroom.com.) Knowing what's available ahead of time could save you valuable packing space.
Your next step is to make a list of your own. A few weeks prior to your move, keep a running list of essential items you use in your daily life. Is there a beauty tool that you can't live without? What about a cooking gadget, reference book, or evening wear? You can't bring everything, but surveying what you do use throughout the week will help you make an informed choice about what to bring.
Finally, consider how you'll be bringing your items with you. Are you flying, driving, or taking a train? Will you be up against any baggage restrictions? If so, you may be able to ship some boxes through a service such as Greyhound Package Express or rent/buy other items when you get there.
Otherwise, it's up to you to pack well so that you have everything you need, nothing you don't, and your stuff is both accessible and organized.
7 Types of Allied Travel Packing Essentials
Below I've put together 7 different kinds of items that are essential yet often overlooked. Following this list should help you both complete and streamline your luggage.
1. Space-saving Containers
If you're traveling by car, durable plastic storage bins like these from Rubbermaid make a great alternative to traditional luggage. Because of their stackable shape and simplicity, storage bins can accommodate more items than a regular suitcase while still fitting in a compact car.
Another way to save on space is by using vacuum-seal bags for bulky garments and bedding. This set from SpaceSaver is reusable, so you can use them over and over again as you relocate from place to place.
Bathroom storage in a temporary accommodation often leaves something to be desired. You can spare yourself some countertop disappointment by packing a compact toiletry bag to keep your items organized and easy to find. No one likes clawing through a suitcase for a toothbrush every single morning.
2. Weather-appropriate wear
The weather may be mild and grand where you're going, but that doesn't mean it will stay that way. Because most travel assignments are about 3 months long, there's a good chance you'll eventually experience a shift in temperature and need to wear a different season's set of clothes.
That goes for precipitation as well. Don't undervalue the utility of a rain jacket or pair of weatherproof boots. But a durable, retractable umbrella like this one will do in a pinch.
3. Stain Removing Pen/Wipes
A stain remover is one of those things that you never think to keep with you until you really need it. Although you can probably buy it once you arrive, I've found that stains acquired while traveling are the most annoying of all. With a stain-remover as tiny as the Tide To Go pen, there's no reason why you can't keep one on hand at all times.
4. First aid and over-the-counter meds
Again, you can always just buy over-the-counter meds when you arrive. But you're not going to simply teleport there, and anything can happen over the course of your travels—be it a migraine, muscle cramps, or worse. A compact kit like this one, with travel-sized ibuprofen, should hold you over until you're home.
5. Handy multi-tool
Over the course of a few months, and particularly while moving, you may find yourself reaching for a variety of tools. Assembling a new nightstand? You'll need a screwdriver. Opening taped boxes? A knife sure can help. Hanging pictures? You can't do that with your bare hands.
But instead of packing a toolbox-worth of heavy implements, a clever multi-tool may do the trick. This stainless-steel Leatherman Multi-tool has the functions of 14 different gadgets, saving you considerable space and stress.
6. Personal safety equipment
You can never be too sure of the actual crime rate in a new town, and traveling invites all kinds of crimes, from identity theft to assault. If you're staying in a hotel room or Airbnb, you may feel safer using an alarmed door lock at night. A personal hotspot router like this one will keep your data safe and your browsing secure.
With the wide-ranging working hours of a health professional, you may find yourself walking in an unfamiliar area in the middle of the night. For peace of mind, bring along personal safety equipment such as pepper spray to use as self-defense, or simply a personal alarm to deter an attack. (If you go the pepper spray route, be sure to check with your state's pepper spray laws first.)
7. Home Workout Resistance Bands
Regular exercise fuels healthy habits and can help you decompress from a stressful day at work. But if you're driving a sedan—and not a tractor trailer—you can't bring your home gym with you. Instead of buying a gym membership you'll use for only three months, consider packing a lightweight set of resistance bands. You'll save on money and space while reaping all the benefits of a full-body workout.
Luggage Essentials for Travel Nurses and Therapists: Final Word
Don't overpack. Remember that less is more, and more stuff will only give you less mobility. By minimizing whenever possible, you'll save on fuel, stress, time, and storage space. These tips and essentials will help you choose what you really need to bring with you and what you can leave behind. And if you don't know where to begin, ask your travel company— they may have a recommended packing list tailored for your destination or job.
Tim Fraticelli is a Physical Therapist, Certified Financial Planner™, and founder of PTProgress.com. He loves to teach PTs and OTs ways to save time and money in and out of the clinic, especially when it comes to therapy documentation or continuing education for therapists. Follow him on YouTube for weekly videos on ways to improve your physical and financial health.